What is Cryosurgery?
The CryoStar is now used by the podiatrist as a cryoanalgesia device for use in blocking pain by temporarily ablating peripheral nerves. The system was licensed by the FDA in June 2003 and Cryotech now has 19 training sites in 16 different states. This system allows the podiatrist to carry out a minimally invasive procedure for rapid freezing of peripheral nerves. The technique has a very low incidence of complication, is easy to perform in the office, and requires no hospitalization or extensive post-operative care. For the patient that has failed conservative therapy, Cryo offers a short recovery period, immediate ambulatory status, and long-term pain relief. For the podiatrist the procedure can be easily repeated and can be reimbursed by some major insurance carriers.
Cryostar

The Cryomed Corporation from England has developed the Cryostar. The Cryostar was FDA approved for use in podiatric ailments in June 2003. Cryostar is licensed to a limited number of Physicians and is available at Bakersfield Foot and Ankle Surgeons in Bakersfield, California .
Cryosurgery in Podiatry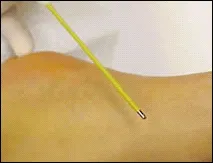 Cryosurgery techniques have been used for many different medical ailments over the years. Only recently has Cryosurgery been introduced into the podiatry world and approved by the FDA as an effective alternative to invasive surgical procedures. Cryosurgery is an effective way to treat conditions such as plantar fasciitis, neuromas, and heel spur pain. The method is also effective in treating tarsal tunnel pain, tendonitis, and even relevant in some cases of arthritis.
The Procedure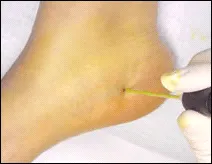 Cryosurgery is a simple office procedure that lasts from 15 minutes up to ½ hour. The recovery time is minimal allowing patients to return to daily activity within 24 hours. The procedure is painless and convenient needing minimal local anesthetic which can be performed in an office setting.
A small tube is introduced near the site of pain and nitrous oxide gas causes the tip of the probe to freeze. This, in effect, alters the nerve sensory pathway eliminating pain. Unlike other techniques which destroy the nerve, Cryosurgery allows the neurological tissue to remain intact.
Performed properly, there are little to no adverse effects to this procedure.
Have anymore questions? Contact us at Bakersfield Foot and Ankle Surgeons (661) 832-3600.